Christians living in fear as Taliban carries out executions and amputations as punishments
U.S. will never recover from Biden. Overwhelming border invasion dissolving the nation as 3 key pillars defining pillars have melted: borders, language, and culture Mass Migration Part of 'Global Plan' to Create a 'New Proletariat'.
Border landowner's 20,000-acre hunting grounds become human smugglers' paradise
The world's only superpower overturned by a rabble of dirt farmers, drug dealers, and Jew haters, in a week is the Hand of God and a sign. Yes, abject sorrow is coming to America!
---
La Palma lava becomes explosive
---
Girl never strapped into seat before dying on amusement park ride
---
'I buried him': Fellow prisoner of war tells of Fr. Emil Kapaun's final days
---
A pioneer ghost town that was submerged underwater for more than 60 years has resurfaced because of a drought
---
The Largest One Year Increase In Murder In The History Of The United States
---
Biden Administration Doles Out $250K to Wuhan Lab-Linked Group The Biden administration awarded more than $250,000 to an organization whose founder waged a secret campaign last year to undercut the theory that the coronavirus originated in a Chinese lab.
---
House Dems Pass Abortion Bill Allowing Gruesome Killings 'Up to and Including When a Mother Is in Labor'
Mom with terminal cancer has leg amputated to save her preborn child: 'I don't know how long I have left'
---
Democrats In Congress Try To Abolish Space Force
---
President of Croatia We will not be vaccinated anymore!
---
4 accused of attack plot on Columbine anniversary
---
Traditional Carmelites in Pennsylvania announce apostolic visitation The traditional Franciscan Friars of the Immaculate had undergone a visitation early on in Pope Francis' papacy — with very negative effects on the order. The interior life of all the nuns will be reviewed. Prayers are requested.
---
---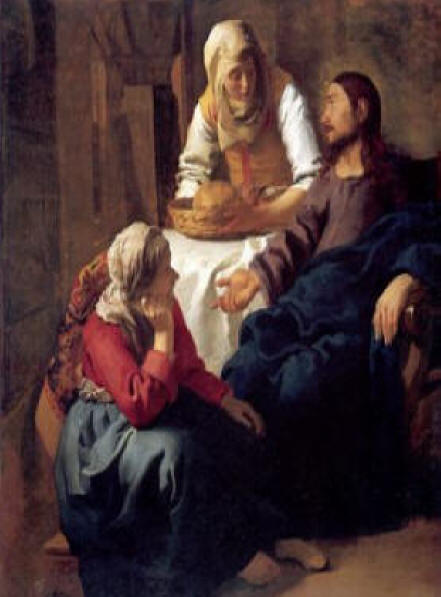 Jesus talking to Martha and Mary
Past Headlines
Exorcist: 'America needs deliverance'
The Pope vs. EWTN: too hot to handle?
The Courage to Endure to the End
Horrific Car Accident Leads to Angelic Encounter
"No one goes to heaven without suffering. And as a child of Mary, you may never put down the cross you bear," the Blessed Mother stressed.
Mission trip miracle: God answered a faith-filled prayer
Chiamaka Koli. Best of the month, folks
Unforgettable Catholic mother and Nigerian immigrant just received her Ph.D. in particle physics. Then the hand of God moved
Almighty, holy and eternal God and Comforter, invigorate my studies and be a lamp to my path so that I may establish myself and others in thy holy faith. JDG
Register's Msgr. Pope: Whatever "familiarity" vaccine mandates may evoke, we in the Church still have a stance and have been teaching that conscience should be respected and that mandates "must be voluntary."
---
illegal Alien Charged with Murdering Woman Who Reported Him for Abuse
Female US service member assaulted by male Afghan refugees at Fort Bliss
---
Miracle from the Womb: Saint David, Patron Saint of Wales
---
Hurricane Sam strengthens to Category 4 in the Atlantic. But still not expected threaten land
---
Amateur divers find an 'incredible' treasure trove of gold coins from the Roman Empire while cleaning up trash on the seabed
---
Texas sues Biden over transgender, pronoun mandates
---
A father in Oklahoma City tackled a local pastor who was seen inappropriately touching his son at a bus stop, leaving the suspect with a cracked skull and a bloody mug
---
Two pro-life victories outside of Texas
House Passes 'Extreme' Pro-Abortion Bill to Wipe Out State Pro-Life Laws and Permanently Enshrine Roe
---
Archaeologists Discover Physical Proof For Destruction Of Sodom And Gomorrah By God Then Try To Turn It Into A Powerless 'Jewish Fable'
---
Raiders of the Lost Ark? Noah's Ark hunters claims they've FOUND boat in Turkish mountains as 3D scans detect 'shape matching Bible description'
---
The James Webb Space Telescope will be 100 times as powerful as the Hubble. It will change how we see the universe It will launch in 2022. It will allow astronomers to look not only farther out in space but also further back in time: It will search for the first stars and galaxies of the universe. It will allow scientists to make careful studies of numerous exoplanets
---
Woman Repairs Butterfly's Broken Wing with Feather
---
---