Typhoon Mawar – latest: Updates as Philippines braces for 175mph category 5 super cyclone
---
Morticians Mystified by Sister Wilhelmina's Body: 'Something Special Going on There'
---
Dogs listed in order of friendliness to humans. Lassie, rough collie, is an aloof dog. Shelties are not friendly, either which is characteristic of livestock guardian dogs. Doesn't mean that they do not bond with owners.
---
Whistleblower at Texas gender clinic exposes horror of 'transitioning' children
---
Philippine exorcists back arrested priest who discounted Lipa Apparitions as NOT supernatural.
---
Cdl. O'Malley of Boston named in lawsuit alleging neglect, cover-up of child sex abuse case
---
Parents described as 'monsters' in horrific abuse that killed 10-month-old in England Both get 56 years.
---
Forever in love with Jesus: St. Philip Neri had a passionate desire for divine union
---
Pope Francis: Stop the 'madness' of the 'fossil fuel era' Fossil fuels are not causing global warming. Do not meddle in areas outside, of your quasi competence, less it ends up worse than your disfigured Catholic Doctrines.
---
David Daleiden . . . Asks Supreme Court to Overturn Judgment Against Him
---
Nine Proofs of the True Presence
---
Sargassum seaweed blob may stink up Florida beaches. But here's how it helps rebuild them More than 100 species of fish (including the sargassum fish and Gulf of Mexico gray triggerfish) and more than 100 species of invertebrates depend on Sargassum as a food source or habitat.

Sargassum can be used as fuel, energy generator, fertilizer, and animal feed, and has become useful raw material in several industries which could leave great contributions to Mexico. Bottomline: Excess should be harvested off beaches.

---
Attacks on churches in Canada greatly exceed what we are seeing here
---
The Mighty Power of the Name of Jesus
---
---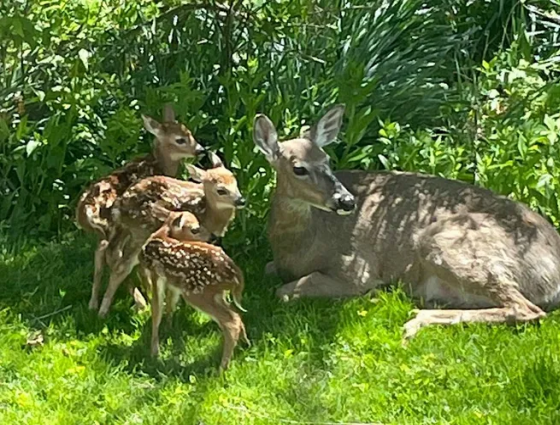 Rare Triplet Fawns Born In Milwaukee Backyard
Past Headlines
How an Otherworldly Experience Drew Their Paths Together
Breaking strongholds in the minds of men, sometimes miraculously
Cervantes: St. Michael the Archangel says, "They want you not to know the divine warnings"
Krakow's saintly and heroic bishops. Wojtyła was by no means the exception
Is AI mentioned in the Bible? Yes, with catastrophic results The Bible is replete with metaphors including "AI" which is a Hebrew word meaning "ruinous heap" An ancient city by that name destroyed by Joshua ("God saves") and its king hung on a tree (metaphor for a despicable death) "At the metaphor this is a preview of the execution of Jesus who, taking on the sins caused by the ultimate king of ruin (the devil), was famously nailed to wood, redeeming everyone from the ancient curse of death, 'by becoming a curse for us, because it is written, Cursed is everyone who is hung on a tree.'"
Vatican Mariologist suggests apparitions about God's punishment are 'false' despite past approval
Arrogance talking?
---
The Cure of Ars said, "All the good works in the world are not equal to the Holy Sacrifice of the Mass because they are the works of men; but the Mass is the work of God. Martyrdom is nothing in comparison for it is but the sacrifice of man to God; but the Mass is the sacrifice of God for man."
Eternal God and Comforter, invigorate my studies and be a lamp to my path so that I may establish myself and others in thy holy faith. JDG
"May the light of the Holy Spirit come upon us all and reveal Him who is the Truth."
---
---
---
---
---
---
---
---
---
---
---
---
---
---