Former Pope Benedict failed to act over abuse claims extensive Church-initiated report out of Germany
Former Pope Benedict XVI denied that he was given information about child abuse in the Legionaries of Christ religious order when he was a top Vatican official, in a case that has tarnished the reputation of his predecessor, John Paul II
---
What caused the Tonga-Hunga tsunami?.


The 5.8 EQ was insufficient to produce the tsunami

. A caldera, (collapsed, depressed area after the top blows off a volcano), was produced. This caused a shock wave heard in Alaska, 5,800 miles away, aided by compression and stretching of the atmosphere.

It is also believed to have caused mass underwater movement which set off the Pacific wide tsunami.

(

Link

)

This 2022 event answers those critics who say Cumbre Vieja on La Palma in the Canary Islands, would only cause a local "point-slide displacement' of water" and can only cause a local tsunami. Recent messages to credible Catholic seers say that the La Palma volcano is NOT finished will get much worse. Also this.
Flooding, damage after Bay Area hit by tsunami waves
Tonga reveals 50 FOOT tsunami came ashore on most islands destroying most habitations 3 confirmed deaths. Before and after pics.
The Tonga events should be a wake up call for everyone
---
Life Insurance Company Denies Claim of Vax Victim Since it is Experimental ..A wealthy businessman had a multi-million dollar life insurance policy for his family, and after he passed away the insurance company refused to pay. The man submitted to a shot and was confirmed to have died from the shot. The hitch is that on all levels, including legal, the shots are experimental. The insurance company stated the policy clearly states that deaths from experimental medicine are the same as suicide, and it doesn't need to pay out.
---
Ironically, the Patron Saint of the Unborn is a Young Man
---
Pennsylvania coach cancels workouts, tells team to shovel snow for neighbors instead
---
Vermont priest fighting removal from parish for not getting COVID jab, refusing to wear a mask
---
Jesus told officer to bless suspect who shot him
---
Triple-Vaccinated Swiss Olympic athlete diagnosed with Myocarditis
Autopsy Reveals Death of 26-Year-Old Man Who Developed Myocarditis was Due to Pfizer Vaccine
The New Normal? 400 Athletes Collapsing & Dying Just In The Last 6 Months?
MIT scientist warns of major brain damage to kids from COVID shots 'It's outrageous to be giving vaccines to young people'
---
Clunky plaster casts really ARE best for broken bones, study finds Healing a broken wrist with a plaster cast is cheaper and safer than using surgical metal pins to hold the bones together and delivers the same outcome new research from Oxford experts has found.
---
---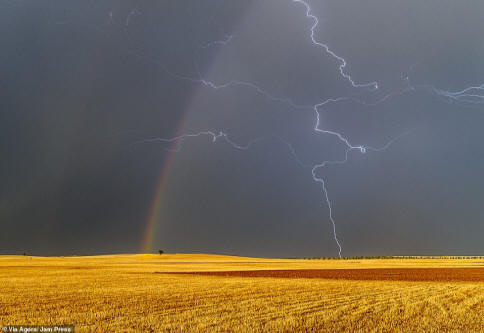 Past Headlines
Instigating The Coming Global Famine: One Scenario Now Rising
Cervantes: Blessed Mother laments those who refuse to see signs of the times
The eternal lust for power.
5 factors that enable politicians to wield control over others. Pope are not exempt
Cardinal Joseph Zen at 90: 'A Great Gift of God to Hong Kong'
A holy life well-lived
He had received a gift of the diary of Saint Faustina and intended to read it when he had time, but he never really got around to reading it. Brendan lives in the West of Ireland but his business affairs meant he had to travel a lot and he put the diary in his car with the intention of reading it in some hotel room some night when he had time on his hands
Mark Mallett's Unapologetic Apocalyptic View
"After watching and praying in this apostolate for 17 years; after listening to pope after pope since the 1800's declare that we are entering the apocalypse; after weighing and testing over a century of Our Lady's apparitions; and after diligently studying the signs of the times in world events… I think it is utterly silly if not reckless to remain silent in the face of the evidence before us".
Be thankful for a voices such as Mark Mallet, Christine Watkins, and Daniel O'Conner, voices crying in a desert of accelerating abominations and sin. Mark reminds of David, who had a perfectly good career as a court musician until God used his courage and faith for a much bigger mission.
The Satanic Deception of Tarot Cards
In addition to daily Bible reading and mediation this Catholic author recommends Tarot and mentions its positive effects
Father Peter Mary Rookey and his Amazing Miracle Prayer
Almighty, holy and eternal God and Comforter, invigorate my studies and be a lamp to my path so that I may establish myself and others in thy holy faith. JDG
Bengals fan saves Raiders fan's life before playoff game: 'God put me there'
---
Suspect captured in furniture store slaying
---
Iranian-American arrested for plot to give US technology to Iran
---
Massive 145-Country Study Shows Sharp INCREASE of Transmission and DEATH After Introduction of COVID Vaccines
---
Supply chain collapse worsening with massive thefts of merchandise from unguarded trains in L.A. In the midst of an ever-worsening supply chain crisis comes a new threat that is making it worse: Mass theft of merchandise from idle, poorly guarded trains hauling cargo containers to all parts of the country.
---
Man who overturned Florida gay marriage ban in 2014 found dead in a landfill
American doctors' group approves assisted suicide for woman with eating disorder
---
Not one body found of buried Canadian children Lamentations from press and Catholic bishops unwarranted Spurious findings caused nation-wide church arsons in Canada.
Desecrated churches: a surge of violence from France to America
---
Six Ex-Navy SEALs Running for Congress Unite to Take on 'Grave Threat' Nancy Pelosi
Revealed: Biden Is Hiding a Ruinous 'Left Behind' Report on Afghanistan
37% of Americans give President's performance during his first year in office an F grade and 52% say he's a weak leader
---
That time Jesus dodged a cannonball
---
'It's Going to Be Deadly': Murder Rates Are Already Up, Now NYC D.A. Won't Prosecute Armed Robbery
---
Cardinal Cupich on a Rampage "On the verge of breaking Canon Law"??: He either broke it or didn't. Ridiculous criticism and severe sanction of priest for asking permission. You cannot break the law by asking permission!
Tobin blasts critics of synod of synodality as guilty of 'heresy' When USCCB tweeted: "Here are seven attitudes we can all adopt as we continue our synodal journey together. Which one inspires you the most? Let us know in the comments below".
Pro life Reader Hollywood actress and pro-life activist Patricia Heaton tweeted back: "How about you adopt this attitude: 'Christ shed his blood on the cross to save you, so attend with an attitude of repentance, humility, gratitude, joy and worship. Let your lips be full of praise for your savior Jesus,'".
Following was a hailstorm of ridicule for USCCB bishops in response to touting banal social justice buzzwords: inclusivity, accompaniment, open-mindedness, listening, and dialogue as integral to the "Synod on Synodality."
Cardinal Tobin was infuriated and claimed Catholics refuse to 'deal with complexity' and Heaton was a heretic.
USCCB set a trap and Tobin fell into it by manifesting the dark side of every 'synodal' virtue listed.
What happened to open-mindedness and dialogue the bishops requested?? Like nothing else Spirit-Digest feels this incident shows outrageous insincerity and blatant hypocrisy.
New Jersey Catholic bishops decry passage of expansive new abortion law, no word from top Cardinal Tobin Babies can't even count on protection from their God-appointed pastors
---
---