Pope Francis to clergy: Decide for yourselves whether to 'bless' homosexual unions
Pro-LGBT Dominican retreat leader consistently contradicts Scripture during retreat for Synod members What kind of orientation do you think this will set for synod participants??
Clergy abuse survivors propose new 'zero tolerance' law following outcry over Vatican appointment (Fernandez). Clergy sexual abuse survivors have unveiled a proposed new church law calling for the permanent removal of abusive priests and superiors who covered for them.
Vatican and Cardinal Fernández fire back at cardinals' new dubia about the Synod on Synodality
---
Priest encourages Catholics to pray for conversion of Pope Francis, 'enemies of the Church'
Fr. Weinhardy revisits his 2019 article on Pope Francis and Schism
---
Strickland: Francis' Vatican Dynamites Bridges Gleefully
Bishop Strickland: "Mary pulled me by the rosary closer to the heart of Her Son"
---
Much has happened since I first published my original article, "Pope Francis and Schism," in The Catholic Thing on October 8, 2019. What has taken place in the intervening years has confirmed many of the points I made then. Here, at Robert Royal's request, I would like to revisit and expand upon several of them.
---
Swimmer vanishes after shark attack off popular beach, California rescuers say Last sighting was ocean water discolored red.
Couple and their dog are killed in grizzly bear attack while they were camping in Banff National Park
The Virgin to the world: You are approaching moments when you will see a sign in the sky – not the one prior to the "Great Warning" but prior to a serious event on earth. An event will occur that will leave human beings astonished. A religious leader will die by unjust hands, unleashing worldwide astonishment.

A great sign will occur in the sky, and our Queen and Mother of Guadalupe will astound humanity, showing what has not yet been revealed (about the Guadalupe image)
---
---
From Muslim to Catholic Priest: He Saved the Eucharist After the Turkey Earthquake & Now He's a Bishop
---
What's the World's Oldest Language? Debate rages Currently spoken: Hebrew, Arabian. Extinct is languages that were written but no living speakers: Akkadian, Sumarian
---
---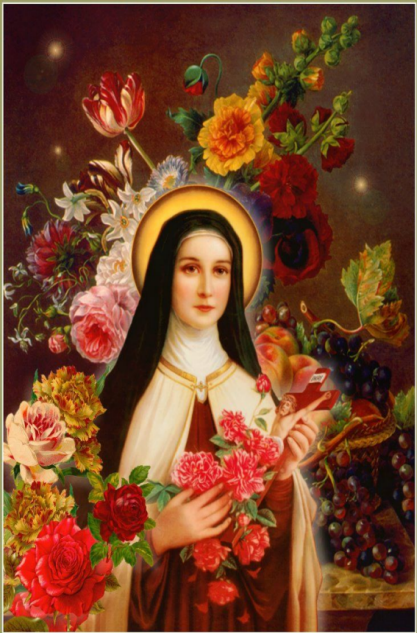 She loved roses and had thrown rose petals as a child before the Blessed Sacrament. As she reflected on her quiet, hidden, and gentle life ending, she believed in faith that God had great things in store for her. She believed that her mission was only beginning as she entered the fullness of life with God. She explained: "After my death, I will let fall a shower of roses. I will spend my heaven doing good upon earth. I will raise up a mighty host of little saints. My mission is to make God loved…" Shortly after her death, the rain of roses began. Sometimes roses literally appeared, and sometimes just the fragrance of them. Cures of painful and fatal diseases and many other miraculous experiences were attributed to her intercession Link
When Lisieux dismissed two demons
For St. Thérèse, the Holy Eucharist Is the Big Secret Behind the Little Way Her order's superior did not permit daily or frequent reception of the Holy Communion.
Past Headlines
5 cardinals submit a new Dubia on July 10 to pope prior to start of Synod Easy to read, short document at the link. Pope's response was received on July 13.
The Catechism speaks of a "final trial that will shake the faith of many believers." The final trial that we have already started expertly described Must reading for the Catholic Christian The planet's destiny and trajectory getting there is inextricably bound with and tied to the holiness of the Catholic Church
This Man Converted to Islam, but Then He Met Jesus in a Supernatural Dream and It Changed Everything
Blessed Mother In new message to Fr. Oliveira repeats October will start of the "Great Tribulation".
" On October 13th, I will give you a sign, as you asked me" --- unknown if sign private or pubic. "There will be great devastation from Russia, instigated by the Dragon from Hell. This will cause damage to all the world.
But you however, fear not! This is the opportune time for holiness".
Don't ask God to be "fair" — ask that He be merciful. Because if He were fair, we'd all be in Hell right now...
---
The Cure of Ars said, "All the good works in the world are not equal to the Holy Sacrifice of the Mass because they are the works of men; but the Mass is the work of God. Martyrdom is nothing in comparison for it is but the sacrifice of man to God; but the Mass is the sacrifice of God for man."
Eternal God and Comforter, invigorate my studies and be a lamp to my path so that I may establish myself and others in thy holy faith. JDG
"May the light of the Holy Spirit come upon us all and reveal Him who is the Truth."
---
---
---
---
---
---
---
---
---
---
---
---
---
---